Are you looking for Tyres Size for your vehicle?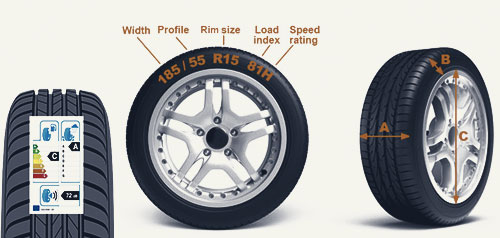 Manufacturers spend a considerable amount of time on research, determining the tyre size for a car model. This is to ensure optimal driving comfort, performance and handling safety.
Therefore, to ensure an uncompromised driving experience, buy car tyres Longton of the recommended size.
You can reach us at Hot Hatch Corner to purchase tyres of the perfect size as per your vehicle manufacturer's recommendations. We stock an extensive collection of different types of tyres in our inventory, suitable for any car make and model.
You also have the convenience of purchasing tyres online from us.
However, before you make a purchase, you must understand what the alphanumeric tyre size code means.
Understanding tyre size
Example: 225/45 R17 91V
225: The first three numbers indicate the section width of the tyre model. In this case, the section width is 225mm.
45: 45 indicates the profile height or section width of the tyre.
R: This alphabet refers to the tyre's construction type. In this case, these tyres have a Radial construction. Other than vintage cars, all passenger vehicles in the UK require radial tyres.
17: The next two numbers represent the rim diameter in inches.
91: These two numbers are the tyre's load index. In this case, the tyre's maximum load carrying capacity is 615 kgs.
V: This final alphabet indicates the speed index of the tyres, which in this instance, is 149 mph.
For further assistance, you can also seek help from the expert technicians at our garage.
Therefore, end your searches for tyres near me and drop by at our garage today!