Are you looking for All Season Tyres for your vehicle?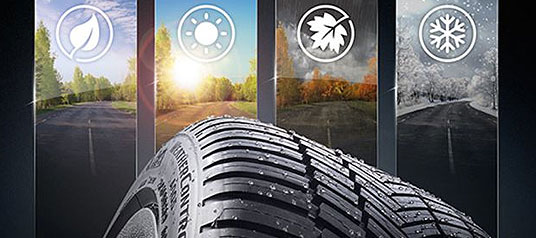 All season tyres Longton are engineered to ensure optimum performance and stability all-year-round, as long as the temperatures aren't too extreme. These tyres are an economical option for car owners who wish to avoid the hassles and expenses of seasonal tyre changes.
Need a set of high quality all-season tyres for your vehicle? Then turn to us at Hot Hatch Corner. Feel free to drive down to our garage any time during business hours.
We also sell tyres online!
We understand that you might not always have the time to visit a garage to buy tyres. Hence, we also offer you the convenience to buy tyres online from us, right from the comfort of your home. You can easily enter our tyre search section and take your pick from our collection of premium, mid-range and budget brands.
Alongside, you can also schedule a fitting appointment.
Certain key features of all-season tyres
The composition and construction of All season tyres Longton are quite different from standard car tyres.
Listed below are some of their prominent features and benefits.
Tread depth
all season tyres Longton come with an intermediate tread depth (it is lower than winter tyres but thicker than summer tyres). It allows these tyres enhanced adaptability in different road conditions. It optimises traction and driving safety on wet and icy roads. It also helps in increasing handling performance and reduces braking distances.
Tread life
Compared to summer variants, all season tyres Longton have an extended service life, therefore making them a more economical option for vehicle owners. This is due to their slightly thicker tread which resists wear and tear significantly.
Driving comfort
Wider tread blocks on these tyres reduce rolling resistance, thereby improving fuel economy and lowering rolling noise at the same time. Also, the unique intermediate rubber composition of these tyres enables them to maintain proper road-to-tyre contact, ensuring a smoother and highly comfortable driving experience.
Top brands available with us
Bridgestone Tyres
Continental Tyres
Pirelli Tyres
Yokohama Tyres
Avon Tyres
Dunlop Tyres
Churchill Tyres
RoadX Tyres
And many more
We have several other brands in our stock. So, please stop searching for "all-season tyres near me" and get in touch with us instead.